Welcome to Whittaker Golf Club
Whittaker Golf Club is a mature moorland course with lush fairways and excellent greens. At 5,666 yards the par 68 course includes 2 par 5s and 6 par 3 holes. See the Course section for a comprehensive guide and card of the course.
If you are planning a countryside break,perhaps for a sporting event, walking, a concert at the fabulous Manchester Arena, or to enjoy the many architectural and cultural attractions, why not enhance your stay with a round of golf at Whittaker Golf Club. You can be sure of a warm welcome, good hospitality, and excellent golf.
Just 2 miles from the centre of Littleborough, Whittaker Golf Club enjoys a secluded location overlooking the Pennines and Hollingworth Lake. It is a moorland course with immaculate fairways and excellent greens. It is a challenging test of golf for low and high handicap players, alike. To score well you need to be straight and accurate.
Whittaker Golf Club welcomes visitors and golf societies from across the country.
Whittaker Golf Club is a mature moorland course with lush fairways and excellent greens. At 5,666 yards the par 68 course includes 2 par 5s and 6 par 3 holes. See the Course section for a comprehensive guide and card of the course.
The club holds regular events for members and guests. We'll update this space soon with 2023's social calendar.
Whittaker Golf Club proudly supports and nurtures young golfers. We'll update this space soon with our offerings for Juniors in 2024.
We are also proud sponsors Chadderton U13's Football Team.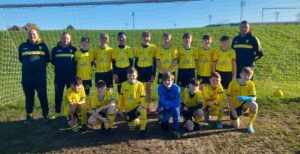 Our guest pricing is below. Summer pricing is in effect from 1st April 2023, until 1st November 2023. Please note the course is not available to Visitors, on Wednesdays and Sundays, as these are Club Competition Days.
We currently operate an Honesty Box System, with a turn up and play System.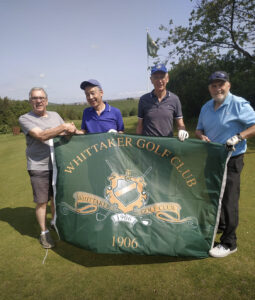 One of the great benefits of being member of Whittaker Golf club is that the club was founded in 1906
Why is this significant?
Well, over 60 golf clubs were founded in that particular year and around 40 of them went on to establish the 1906 Club.
This is an association of those Clubs founded in 1906 who have agreed to offer courtesy of their courses to members of other 1906 Clubs.
Courtesy golf at all of these clubs isn't there a catch?
Not really – but the agreement is that golfers can't play any club within a 50 mile radius of their own club. Although they can be played by paying a green fee of Course!
All other courses in the table below offer courtesy golf, so the opportunity exists to have a day out, visit a club whilst on holiday or plan a trip with friends. There are some stunningly attractive and picturesque courses available to members, as you will see by clicking on the website links. It is possible, of course, that clubs may decide to make a nominal charge or have restrictions on availability depending on their own circumstances.
Unlike the agreement of 'Reciprocal Golf' with Lingdale GC and Ormonde Fields GC (where the Club Pro can be contacted) on this occasion it is important to initially make contact via the Club Secretary. Any arrangement will be subject to the traditions and internal commitments of a Club, e.g. competitions, matches and the like.

Please approach the club and complete any documentation they may require in good time. A maximum of eight golfers may take part in this arrangement at any one time as a group
Andrew O'Donnell - Secretary wgc.hon.sec@gmail.com
Paul Devenny - Treasurer whittaker_golf@yahoo.co.uk

Paul Jones - Competition Secretary whittakergc.comp.sec@gmail.com
We are currently inviting applications for playing membership for men, ladies and juniors.
The club runs an active social programme.
If you would like to apply, or know anyone who would be interested in joining Whittaker Golf Club, please contact us for further information.
Special Membership Offer
Access to the 1906 Club, Offering a free / generously discounted round to over 40 courses (T&Cs apply)
At WGC we want all children and adults to enjoy playing golf in a safe environment. To support this we are a "SafeGolf " accredited club. The SafeGolf accreditation process became part of the England Golf affiliation process from April 2021.
SafeGolf consists of members from the golfing bodies across Great Britain & Ireland and has been established to help golf respond to the issue of child protection in sport. Its mission is to safeguard the welfare of children and young people, as well as adults at risk, in the sport of golf. This will be achieved through a unique partnership which has the ability to influence and act as advocate for safeguarding across the golfing landscape, developing a consistent approach towards ensuring that all people have a fun, safe and positive experience when playing golf.